AdBuzz
AdBuzz is a "Virtual" advertising agency.
A fast loading interactive Flash animation introduces and sets the tone of the site, which expresses the partners' philosophy that selling can be fun and playful yet hold to a tight strategy. The Web site was the winner of a Summit 2003 Award.
As you'll see from their portfolio, the partners are pretty off-the-wall and very creative. They wanted the Web site to reflect their creative direction and present a sampling of their work. The art director, Steve, designed the site. Martin, the copywriter, fine-tuned his copy brilliantly to the last word. Building the site was way too much fun!
Visit the Web site.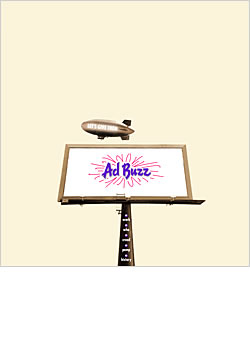 Roll the mouse over images below, then click for more information.

Mariani Packing Company
Premium Dried Fruits
Seasons Harvest
Gourmet Foods
Volunteer For Good
Nonprofit Organization
San Francisco County Fair 2005
Harvest From The Sea
West Coast SignWorks
Quality signage
Frances Binnington Gilding
Artist & Teacher
The Elegant Stitch
Heirloom Wedding Accessories
AdBuzz
Creative Services / Advertising
VocalPoint Technologies
Voice Recognition Technology
Oakmont Visual Aids Workshop
Teaching Aids For Blind Children
Yesterday's Summer
Antique Photos - Roughing it in 1912
Bret Bortner Design
Designer of Upscale Pottery