West Coast SignWorks
West Coast SignWorks designs and produces high end custom signs for business.
The company's owners had recently redesigned their logo to reflect their philosophy of elegance and simplicity in design. They recognized the value of a strategically focused Web site in their branding and business-building efforts.
The Web site Polaris Interactive designed and produced for West Coast SignWorks closely adheres to the strategy outlined by the partners, presenting the company as a highly professional and reliable service oriented organization whose products are well designed and competitively priced.
Visit the Web site.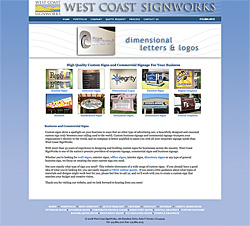 Roll the mouse over images below, then click for more information.

Mariani Packing Company
Premium Dried Fruits
Seasons Harvest
Gourmet Foods
Volunteer For Good
Nonprofit Organization
San Francisco County Fair 2005
Harvest From The Sea
West Coast SignWorks
Quality signage
Frances Binnington Gilding
Artist & Teacher
The Elegant Stitch
Heirloom Wedding Accessories
AdBuzz
Creative Services / Advertising
VocalPoint Technologies
Voice Recognition Technology
Oakmont Visual Aids Workshop
Teaching Aids For Blind Children
Yesterday's Summer
Antique Photos - Roughing it in 1912
Bret Bortner Design
Designer of Upscale Pottery