Seasons Harvest
Seasons Harvest is a manufacturer of gourmet specialty foods that sells its products through retail stores. They desired to increase awareness of their delicious products through a Web site and eventually enter the world of e-commerce.
Retail ordering is through a secure online e-commerce store. The site includes password protected wholesale and distributor areas.
Visit the Web site.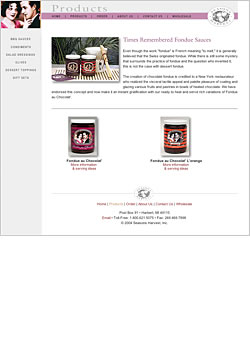 Roll the mouse over images below, then click for more information.

Mariani Packing Company
Premium Dried Fruits
Seasons Harvest
Gourmet Foods
Volunteer For Good
Nonprofit Organization
San Francisco County Fair 2005
Harvest From The Sea
West Coast SignWorks
Quality signage
Frances Binnington Gilding
Artist & Teacher
The Elegant Stitch
Heirloom Wedding Accessories
AdBuzz
Creative Services / Advertising
VocalPoint Technologies
Voice Recognition Technology
Oakmont Visual Aids Workshop
Teaching Aids For Blind Children
Yesterday's Summer
Antique Photos - Roughing it in 1912
Bret Bortner Design
Designer of Upscale Pottery